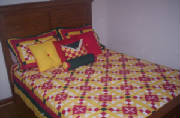 Hi Y'all, and welcome to Simply traditional Quilts.


If you're anything like me, the idea of creating a beautiful, home made quilt from scraps is a wonderful idea, but it is also one that sends shivers of terror coursing down the backs of many a would be quilter.

Let's face it, there is very little in this world more daunting than having to cut out hundreds, if not thousands of pieces of material for a quilt.

Without a doubt that is the most time consuming step in the process. For me, it is the worst part.

I love making quilts, I love sewing them together, I adore hand quilting them, but cutting out the pieces? Ugh!!

I always thought it would be just the greatest thing if there was a way I could make the quilt without the cutting out process, and there is.

Okay, you're right, somebody has to cut out all those pieces, right? Right! But why does it have to be you?So, I hit on this idea. it's brilliant really, if you think about it.
So, here's my idea. I will cut your pieces out for you! That's right. As a stay at home wife, and grand mother with more than thirty quilts under my belt in the last seven years, I know how to cut fabric and cut it quickly and precisely,and anyone who quilts knows precision is nine tenths of the battle.
I will cut your pieces, or hand quilt your quilt tops.
It won't be cheap, but it won't take your annual food budget either, and I think you'll be more than satisfied with the finished product.
On our services page, you'll see a complete price list for all work offered.
If you want to make that quilt, but time is a luxury you can't afford, then you need my services.
You have little to lose and a beautiful, traditional, heirloom quilt to gain.